Hall of Fame
- Horses
December 9, 2022
---
The Louisiana Quarter Horse Breeders' Association Hall-of-Fame showcases the many horses and people who have earned the distinction of becoming part of Quarter Horse Racing history in Louisiana. To be part of the Hall-of-Fame, horses and people must have been outstanding over a period of years in a variety of categories. They must have brought exceptional visibility and/or contribution to Quarter Horse Racing and the State of Louisiana.
Hall-of-Fame inductees are chosen each year by a selection committee and are honored at the annual LQHBA Awards Banquet. The inaugural inductee class were announced in January 2016. On April 9, 2016, Leverne Perry and Claude and Bessie Lea Jeane, Oh Black Magic, Rocket's Magic and Royal Bushwhacker were inducted into the Louisiana Quarter Horse Breeders Association (LQHBA) inaugural Hall of Fame. The ceremony was held in conjunction with the 50th anniversary of the association. Owner-breeder Claude W. Boutte, Jr. and Grade 1 winner and industry leading sire Feature Mr Jess were inducted in 20121.
Outstanding Louisiana Quarter Horse trainer Phillip Calais, Sr. and iconic stallion Heza Fast Dash will be honored in the 2022 class.
A special thank you to Martha Claussen for research and writing bios and to Speedhorse and TRACK magazines for helping track down photos of these inductees from their archives.
The inductees have each played a significant role in Louisiana Quarter Horse industry. Inductees into the Louisiana Quarter Horse Breeders' Association Hall-of-Fame are:
PEOPLE
Claude W. Boutte, Jr.
Claude & Bessie Jeane
Dale Rogers
J.E. Jumonville, Jr.
Leverne Perry
Lee Berwick
W.A. Darling
HORSES
Feature Mr Jess
Go Vicki Meyers
Hemp Meyers
Hesajoy
Mr Jess Perry
Oh Black Magic
Rockets Magic
Royal Bushwhacker
Streakin La Jolla
Vals Fortune
Below are photos of each Hall of Fame member inducted in 2021. Click their photo or name in the left toolbar to read their biographical information. To view previous Hall-of-Fame member bios click on "PEOPLE" or "HORSES" in the left tool bar.
MR JESS PERRY
Inducted into the LQHBA Hall of Fame in 2019
MR JESS PERRY
Racing champion and prolific sire Mr Jess Perry will join the LQHBA Hall of Fame, and his accomplishments from very humble beginnings, are quite remarkable.
He was bred in Louisiana by Jesse Perry, the father of LQHBA Hall of Fame member, Leverne Perry. Jesse had enlisted his son on the cross, and Leverne paid $1,000 for Scoopie Fein, who was bred to Streakin La Jolla in 1992, producing Mr Jess Perry.
The racing accomplishments of Mr Jess Perry were plentiful, beginning with victories in the $961,418 Texas Classic Futurity (G1) and $167,782 LQHBA Futurity (RG1). He was honored as AQHA Racing Champion 2-Year-Old and Champion 2-Year-Old Colt in 1994. In his 3-year old campaign, Mr Jess Perry was victorious in the $335,867 Texas Classic Derby (G1), closing out his racing career with a record of 12 wins from 21 starts and earnings of $687,184.
But his accomplishments soared in historic fashion when he entered his second career as a stallion. Mr Jess Perry is the sire of world champion Apollitical Jess and six other champions: One Famous Eagle, Noconi, Miss Racy Jess, Fredricksburg, Fredaville and Matabari, who remains his top earner with $1,410,471. He sired 2010 All American Futurity (G1) champion, Mr Piloto, who also retired as a millionaire and is rising up the stallion ranks. His son, Mpshinning won the 2018 LQHBA Louisiana Million for Grant Farms of Pineville. They became the first Louisiana breeder to be honored as AQHA champion breeder.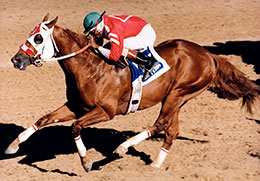 Mr Jess Perry winning the Grade 1 Texas Classic Futurity.
© Courtesy Speedhorse
Mr Jess Perry has become a sire of sires and his daughters are leading producers. The Mr Jess Perry son One Famous Eagle sired world champion
One Dashing Eagle
from his first crop. He won three Grade 1 stakes including the $2.4 million All American Futurity on his way to earning $2,079,065 as a juvenile.
He is also the number-one broodmare sire of 2-year-old money earners with those juveniles earning more than $4.86 million. The top 2014 money earner out of a Mr Jess Perry mare was Heza Dasha Fire, who won nine Grade 1 stakes in California, earning $2.2 million in his illustrious racing career. Mr Jess Perry stands third on the list of AQHA all-time leading sires, behind First Down Dash and Corona Cartel. He has sired at least 142 stakes winners, including 86 graded stakes winners, with earnings in excess of $52.7 million dollars.
The famed stallion was syndicated in 1999 and stood at Four Sixes Ranch in Guthrie, Texas, until his death in 2017 at the age of 25.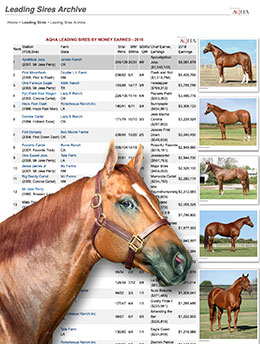 No less than five sons joined their sire Mr Jess Perry on AQHA Top 25 Leading Sires of Money Earners list in 2018.
Leverne Perry, who passed away on March 27, 2016, always acknowledged how much he had learned from his father. One of Perry's five daughters, Leigh Perry Lepinski, remains active in the industry and is pleased that
Mr Jess Perry
will be honored.
"This award honors both my father and grandfather," explained Lepinski. "Mr Jess Perry was the best horse my dad ever raised and meant so much to him. His heart would swell and he would get tears in his eyes every time he talked about Mr Jess Perry."
Prior to the LQHBA Hall of Fame induction, Mr Jess Perry will be inducted into the AQHA Hall of Fame in ceremonies this March as part of their annual convention. He will be the first accredited Louisiana-bred to join the elite list of equine champions, something that Lepinski is extremely proud of.
"It is wonderful for Louisiana and our association to be recognized on a national level," she added. "There is a long list of people who deserve credit for the success, both as a racehorse and then as stallion, for Mr Jess Perry. My grandfather was a small breeder, and this should give hope to everyone in our industry that dreams do come true."