News
- Preview
October 26, 2021
---
Mardi Gras Futurity, Mardi Gras Derby Set Finals for Saturday, March 12 at Louisiana Downs
Miguel A. Aguilar's Rdd Lajollanfastdash, under jockey Raul Ramirez Jr., posted the fastest clocking in the Mardi Gras Futurity trials.

© Hodges Photography / Ann Switalski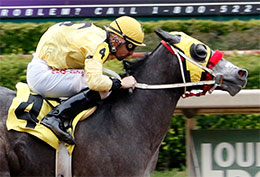 By Martha Claussen
BOSSIER CITY, LA—MARCH 4, 2016—There is a rich 27-year history to the Mardi Gras Futurity. On Saturday, March 12, a new champion will be crowned at Harrah's Louisiana Downs.
As the first official futurity of the year, the $273,054 Mardi Gras Futurity (RG2) begins with a blank slate and culminates with the best of the early-developing youngsters. The majority of the 111 juveniles that ran in trials on February 20, were making their first official start. Some had the experience of a schooling race, but when the twelve trials were finished, a very nice group of Louisiana-breds had qualified for the 300-yard final.
Miguel A. Aguilar's Rdd Lajollanfastdash was the winner of the sixth trial, crossing the wire in :15.531, the fastest clocking of the afternoon. Richard Dale Domingue of Youngsville, Louisiana, bred his Streakin La Jolla mare La Jollan Queen to Heza Fast Dash, citing the sire as a "proven producer".
Streakin Pyc, under jockey Juan Garcia, Jr., setting the second fastest qualifying time during the February 20th Mardi Gras trials at Louisiana Downs.
© Hodges Photography / Ann Switalski
Rdd Lajollanfastdash, was the fourth foal of La Jollan Queen, who slab fractured early in her career before becoming a broodmare. Her son faced his own battle as a weanling.
"He got the strangles, then the mare got it and they both ended up at LSU in isolation for three weeks," said Domingue. "We were very fortunate that they both recovered. He was always a very intelligent and attentive young horse."
Trainer Willie Simien, Jr. and Aguilar purchased several yearlings at the 2015 LQHBA Yearling Sale, and signed a $10,000 ticket for Rdd Lajollanfastdash. Simien liked his pedigree, noting his "long, straight legs", but didn't think at the time that he would be the best of his 2016 racing prospects.
However, that impression changed after his first breeze, and became even more evident following his schooling race on January 29, when he drew off by 3 1/4 lengths.
Raul Ramirez, Jr. piloted the bay gelding that day, dismounted and gave Simien the report.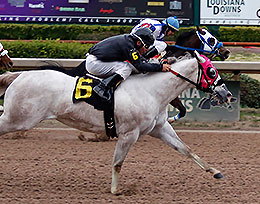 Jess A Little Star, under jockey Damian Martinez, setting the third fastest time.
© Hodges Photography / Ann Switalski
"His exact words were 'Willie, don't take me off this one," recalled the 27-year-old trainer.
Simien lives in Rayne, Louisiana and does the majority of his training at the Quarter Pole Training Center. He's got 15 juveniles in his barn and credits his dad, Willie, for breaking the majority of the young runners. Of course, he admits that you never know how juveniles will progress as they prepare for their racing debut.
"We bought some nice horses at the sale, and to be honest, I didn't think Rdd Lajollanfastdash would be one of my best runners," he said. "You have to make adjustments with each horse; some get it quicker than others. But, I love figuring it out."
Rdd Lajollanfastdash has progressed flawlessly in 2016.
"His first sharp breeze was awesome and he's been incredible in every way," said Simien. "Honestly, he's just a natural runner."
Ramirez, who is coming off the best year of his riding career, is in complete agreement.
"He does not act like a 2-year-old," explains Ramirez. "His maturity and his professionalism is much more like a 4-year-old racehorse."
Simien and Aguilar are good friends and have tremendous confidence in Rdd Lajollanfastdash. The final on March 12 is just the first of several planned futurities for his fastest qualifier.
"I know this horse can run," states Simien. "Our biggest question is whether to run him in the Laddie or wait for the Lee Berwick. He's paid into the LQHBA Breeders Futurity."
The winner's share of the Mardi Gras Futurity is $122,874 and would be the biggest score for Simien, whose previous top triumph was with Intriguing Jess Blue, winner of the 2011 LQHBA Invitational, the consolation for the seven-figure LQHBA Breeders Futurity.
Not to diminish the chances of Rdd Lajollanfastdash, but fastest qualifiers have not fared well in the last three runnings of the Mardi Gras Futurity. Ana Alvidrez's Magic Black Jack, at 8-1 under David Alvarez, won last year's final, with fastest qualifier One Tough Fox finishing fifth. Hemps Jumpn Lajolla ($25.80), owned and trained by Miguel Rodriguez won in 2014 as fastest qualifier, Dynastys Jumpin, was disqualified and placed seventh. In 2013, Sandra Sue Blue, at 33-1, was the gate-to-wire spoiler.
So several others in the field should get a look from the wagering public, including second-fastest qualifier, Streakin Pyc, bred by Leroy Fontenot (see related story) and trained by Wendy Garcia. Pina-Garcia Ranch purchased the son of Jls Party Wagon from the Streakin La Jolla mare Electric La Jolla for $11,000 at the LQHBA Yearling Sale.
Gamepatriotdeluxe qualified in the eleventh trial, as the runner-up to Juan J. Bazaldua's Jess A Little Star. Grant Farms LLC bred the son of Game Patriot, who is trained by Michael Taylor for owners Ten For Ten. The $33,000 LQHBA Yearling graduate was clocked in : 15.892, the fourth-fastest time of the day.
The tenth-fastest qualifier is Chocolatebyelajolla, a Dashin Bye filly owned and bred by Karen Darling Falgoust. She will be the first stakes finalist for young trainer, Donald Watson, Jr., whose father, Donald, is one of the top riders on the Louisiana circuit.
Jess A Saint and My Favorite Blue Lead Field in the $86,190 Mardi Gras Derby
The 10th running of the Mardi Gras Derby will also be contested on March 12. Ten qualifiers from trials run on February 21 are headed to the 400-yard final. Two runners, both offspring of Jess Louisiana Blue, Jess A Saint and My Favorite Blue, won their trials in :20.041 seconds.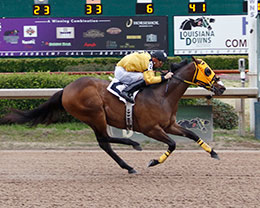 LQHBA Breeders' Futurity winner Jess A Saint, under regular rider Raul Ramirez Jr., tied for the fastest qualifying time to the Mardi Gras Derby.
© Hodges Photography / Ann Switalski
Last year's Mardi Gras Derby champion was J and Y Racing's JLS Dashn And Zoomn, who drew clear under Raul Ramirez Jr. The Brenda Foster-trainee won the 2014 LQHBA Breeders Futurity. Ramirez will try to make it two in a row as he will ride the winner of last year's richest race in Louisiana, Jess A Saint.
Trainer Miguel Rodriguez conditions the 3-year-old, bred by J.E. and Bunny Jumonville. Owned by Julio Rios, Jess A Saint is out of the thoroughbred mare Laughing Saint, by Vindication.
"He pulled up fine from the trial," said Rodriguez. "All we hope for is that he gets away well; his trial was an easy race; we didn't push him. We just wanted to qualify."
Martin Trejo trains My Favorite Blue for Tres Ricardos Ranch. Bred by Jumonville Farms, David Alvarez will ride the gray colt, who will make his 11th career start.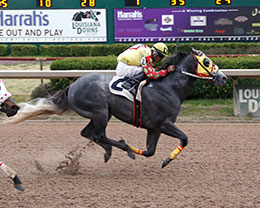 My Favorite Blue, under jockey David Alvarez, was the co-fastest Mardi Gras Derby qualifier.
© Hodges Photography / Ann Switalski
Two offspring of
Coronas Leaving You
, Corona Together and Heisa Hot Ticket, qualified with times of :20.141 and :20.193, respectively.
Noted Louisiana stallion Jet Black Patriot is also well-represented in the Mardi Gras Derby with Jet Black Zoomer, the sixth fastest qualifier; Jetz A Streakin, seventh fastest and Punctuality, who rounds the top ten finalists with a time of :20.403.
Scholarship Presentations Set for March 12
Breeding and racing are certainly top priorities for the Louisiana Quarter Horse Breeders Association (LQHBA), but one very important goal of the association is to promote education for Louisiana youth. Since 2001, the LQHBA scholarship program has granted over $380,000 for students attending a higher education institution.
With the support of sponsors, Robicheaux Ranch, Inc and TRACK Magazine, three students will be awarded scholarships during the Mardi Gras Futurity finals, March 12 at Louisiana Downs.
Ashlee Hatwig, a Senior at Oak Hill High School in Elmer, Louisiana, will receive a $3,500 Scholarship for the best student essay on the 2016 Mardi Gras Futurity qualifiers. Her submission (click here to see) was selected by a panel of judges.
Two additional $1,000 Mardi Gras Futurity scholarships will be awarded during a live drawing immediately following the third race Saturday, March 12.
Applicants must register in person between 11:30 and 1:30 p.m. (CST) on race day (March 12, 2016). A registration table will be located inside the main entrance of the racetrack next to the program stand. Participant/entrant must be a Louisiana High School Graduate or a student who is graduating from a Louisiana High School in 2016 and will attend a higher education institution in the calendar year of 2016. Scholarship is limited to the cost of tuition, books (electronic or printed) and required electronic study materials only.
LQHBA will also a hold a Wild & Zany Mardi Gras Outfit contest at the track! The contest is open to everyone and patrons are urged to wear their craziest Mardi Gras outfit to enter. Judging will take place immediately following the fourth Race in the Louisiana Downs winner's circle and a $500 gift card will be awarded to the winner.
"We look forward to seeing the exceptional finalists compete in both the Mardi Gras Futurity and Derby," said Tony Patterson, executive director of the Louisiana Quarter Horse Breeders Association. "The quality of Louisiana racing is due to the commitment from our breeders and hard-working horsemen. We sincerely thank them for their support."
* * * * * * * * * * * * * * * * * * * * * *
Martha Claussen served as publicity director at Sam Houston Race Park for ten years. She continues to be active in writing, fan education and Quarter Horse racing publicity in Texas, Louisiana and other regions in North America.